Hola, ¿cómo estás? Are you looking for a NAATI-certified Spanish translator or interpreter? If so, you have come to the right place. We, at Translation Express, have been serving the Spanish-speaking community throughout Australia including Sydney, Melbourne, Brisbane, Adelaide, Perth, Darwin and Hobart for many years . We actively listen to you and provide the most suitable translation and/or interpreting service to help you to achieve your goal. Email us your documents and requirements to book a professional translator and/or interpreter and we will be in touch shortly!
All of our translators and interpreters are based in Australia and have good knowledge of local culture, phrases and slang. Most of our translators also work as interpreters and understand the importance of tone, syntax and nuance. We can provide translation service for the following documents:
Certificate: A

postille,

Birth Certificate, Civil Partnership Certificate, Degree Certificate, Marriage Certificate, Police Check
Commercial and Marketing Document
Financial Document
Legal Document
Licence and Permit: Driver's Licence, Import Permit, Passport
Medical Report
Technical Manual
Our interpreters have attended a variety of meetings such as legal meeting and medical appointments to facilitate communcation between professional practitioners and Spanish-speaking residents and visitors.
What are the varieties of Spanish?
Spanish language is the (or an) official language of 18 countries. The greatest number of Spanish speakers is found in Mexico, followed by Colombia, Argentina, the US and Spain.
Modern standard Spanish developed from a dialect called Castilian. Written Spanish used in different regions adhere to approximately the same standard, but spoken Spanish may vary in terms of pronunciation, vocabulary and grammar. Some regional varieties are European Spanish, Mexican Spanish, Caribbean Spanish and Chilean Spanish. These varieties are mutually intelligible in general.
Did you know?
Across the world, Spanish is one of the 10 most spoken languages, the second largest native language and the third most used language on the Internet!
Historically, Latin heavily influenced Spanish. About 70% of the Spanish words originated from Latin. In addition, Arabic also brought tremendous historic-cultural influence on Spanish. The Spanish language has about 4,000 Arabic loanwords. How crazy is that!
One unique thing about Spanish is that it may be referred to by two names: Español or Castellano. Both terms are synonyms for "Spanish". However, Español is preferred when compared with Castellano which means the Spanish spoken in the area of Castilla.
Quick, easy and simple!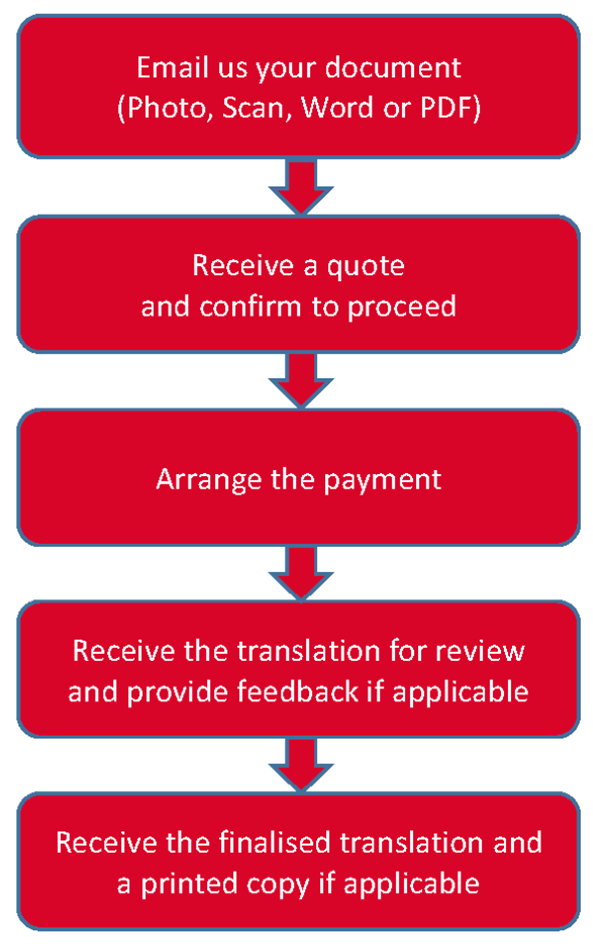 Experienced, knowledgeable and trustworthy
More than ten years of experience in the areas of

education
finance and commerce
health care
immigration
law
social work

Extensive local knowledge

live and work in communities
tertiary-educated in Australia
engage in continuing professional development

A panel of NAATI certified translators and interpreters in Australia

verified and approved by local authorities
strictly follow the Code of Ethics

A team of professional and experienced project coordinators


take the time to listen to and fully understand you

deliver service on budget and time
value your feedback and respond promptly
Need an interpreter for an appointment?
Please complete our online booking form or email the details of your request to info@translationexpress.com.au.
For urgent requests, please click here for our phone numbers.