We provide NAATI certified Punjabi translators and interpreters throughout Australia including Sydney, Melbourne, Brisbane, Adelaide, Perth, Darwin and Hobart. Our Punjabi translators and interpreters specialise in a variety of areas, and are able to deliver fast and reliable services.
Punjabi is one of the fastest-growing languages in Australia. The majority of Punjabi-speakers live in Victoria, New South Wales, Queensland and Western Australia. We have many years of experience in serving the community to overcome language barriers. Whether you need Punjabi translation or interpreting service, we will be able to help!
Our translators have translated a range of documents for our clients. Some examples are listed below:
Birth Certificate
Death Certificate
Driver's Licence
Marriage Certificate
Passport
Personal Letter
Police Check
Power of A

ttorney
Our interpreters have attended a variety of meetings such as legal meeting and medical appointments to facilitate communcation between professional practitioners and Punjabi-speaking residents and visitors.
All of our translators and interpreters are based in Australia and have good local knowledge of Australian culture, phrases and slang. Most of our translators also work as interpreters and understand the importance of tone, syntax and nuance. We listen to your requirements and are dedicated to helping you to achieve your goals through effective communication.
What are the varieties of Punjabi?
Punjabi is the official language of the Indian state of Punjab. Although not officially recognised, it is also spoken by a large number of people in the Punjab province of Pakistan. Major Punjabi-speaking communities can also be found in Canada, the UK and elsewhere.
Eastern Punjabi and Western Punjabi are the two main varieties. The former is spoken primarily in the Punjab State of India while the latter in the Punjab province of Pakistan. Interestingly enough, under the umbrella of Eastern and Western Punjabi, there are actually numerous dialects. The dialects, though different in certain pronunciation and vocabulary, are mutually intelligible in general. Punjabi speakers overseas even incorporate elements of more than one language into Punjabi, creating a norm different from that of Punjabi used in India and Pakistan.
Did you know?
Punjabi can be written in two different scripts, namely Shahmukhi and Gurmukhi, making it one of the most unique languages in the world. Although Punjabi is not recognised as an official language of a country, it has gained exceptional recognition worldwide. In Canada, it is considered the parliament's third language after English and French.
Languages such as Urdu, Hindi, Sanskrit, English and Spanish have heavily influenced the evolution of modern Punjabi. As the Bollywood culture further modernizes Punjabi, Punjabi songs in these movies are setting new sales records, a few of which are pretty popular in the bars and nightclubs of the western world!
Quick, easy and simple!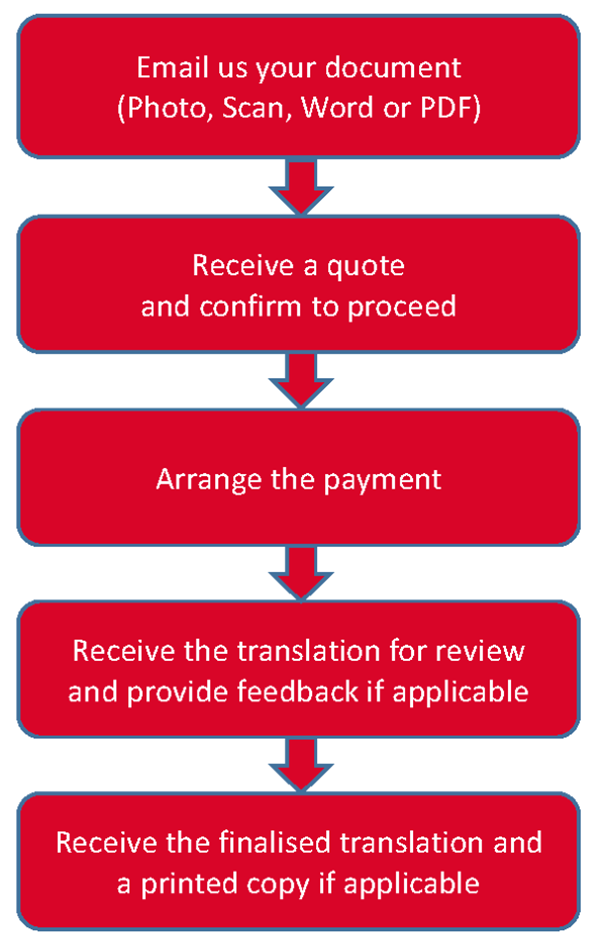 Experienced, knowledgeable and trustworthy
More than ten years of experience in the areas of

education
finance and commerce
health care
immigration
law

Extensive local knowledge

live and work in communities
tertiary-educated in Australia
engage in continuing professional development

A panel of NAATI certified translators and interpreters

verified and approved by local authorities
strictly follow the Code of Ethics

A team of professional and experienced project coordinators


take the time to listen to and fully understand you

deliver service on budget and time
value your feedback and respond promptly
Need an interpreter for an appointment?
Please complete our online booking form or email the details of your request to info@translationexpress.com.au.
For urgent requests, please click here for our phone numbers.