We provide NAATI certified French translators and interpreters throughout Australia including Sydney, Melbourne, Brisbane, Adelaide, Perth, Darwin and Hobart. Our translators have industry experience in translating medical, legal and business documents as well as all types of certificates. Our professional interpreters across Australia can assist you for an appointment either on site or remotely via phone or video.
French spoken at home is on the rise in Australia. The majority of French speakers were born in France, Australia and Mauritius.
Our translators have translated a range of documents for our clients. Some examples are listed below:
Birth Certificate
Civil Registration
Death Certificate
Driver's Licence
Marriage Certificate
Passport
Personal Letter
Police Check
Power of A

ttorney
Our interpreters have participated in a variety of meetings such as pre-conference interviews and family dispute resolution conferences to facilitate communcation between legal practitioners and French-speaking residents and visitors.
What are the varieties of French?
As one of the 10 most spoken languages in the world, French is widely spoken in regions like Europe, Africa and North America and is the official language of 28 countries.
Out of all the different accents and varieties, Parisian French, namely French spoken in Paris, is often considered the Standard French or International French. One interesting fact about French is that Africa is actually the continent with the most French speakers where French is often used alongside indigenous languages.
Did you know?
The Brisbane French Festival is Australia's largest French festival. Some of French Australians refer to themselves as Huguenots.
Before the French Revolution, French was not popularly used across France. As a matter of fact, French was actually used more in Holland and Germany than in France until the 19th Century. Isn't this surprising?
Interestingly enough, French did heavily influence modern English. Around 30% of modern English words are from French! An example can be found in the use of culinary words. Words like chef, blanching, sautéing and julienne all originated from French.
Quick, easy and simple!
Contact us via info@translationexpress.com.au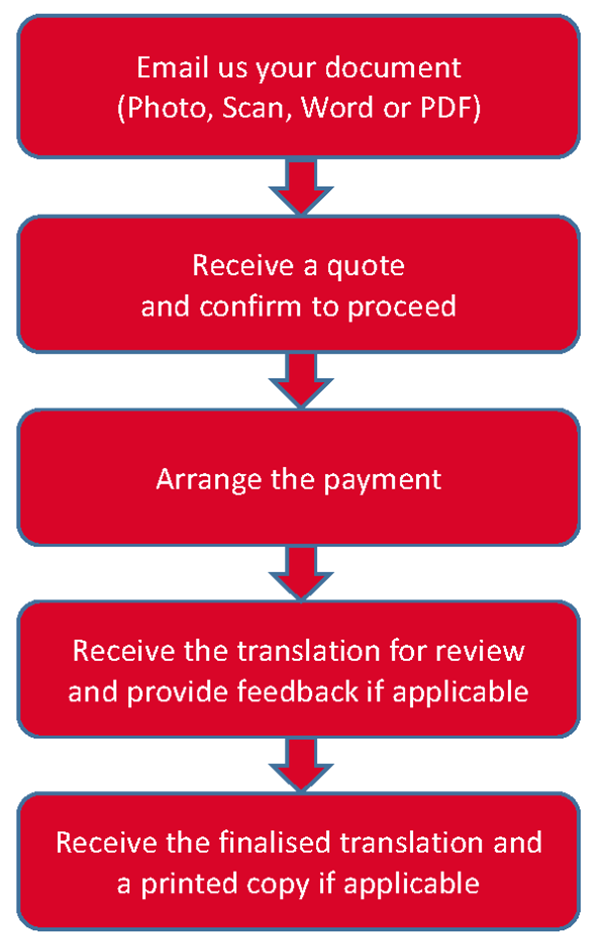 Experienced, knowledgeable and trustworthy
More than ten years of experience in the areas of

business
health care
immigration
law

Extensive local knowledge

live and work in communities
tertiary-educated in Australia
engage in continuing professional development

A panel of NAATI certified translators and interpreters in Australia

verified and approved by local authorities
strictly follow the Code of Ethics

A team of professional and experienced project coordinators


take the time to listen to and fully understand you

deliver service on budget and time
value your feedback and respond promptly
Need an interpreter for an appointment?
Please complete our online booking form or email the details of your request to info@translationexpress.com.au.
For urgent requests, please click here for our phone numbers.