Our Chinese translators and interpreters are fully certified by NAATI at the professional level and we provide Chinese translation and interpreting service throughout Australia including Brisbane, Sydney, Melbourne, Perth, Adelaide, Canberra, Darwin and Hobart. We also have qualified Chinese translators and interpreters in China, the USA and New Zealand.
If you wish to translate your driver's licence and/or ID, please go to our online store. It will take you only a few minutes to place an order.
Get a quote ? Contact us via info@translationexpress.com.au or phone us for urgent requests.
Translation service: Simplified Chinese and Traditional Chinese
Interpreting service: Mandarin and Cantonese
Where are simplified Chinese and traditional Chinese used?
Simplified Chinese is used in Mainland China and Singapore. Traditional Chinese is used in Hong Kong, Macau and Taiwan.
Did you know?
"Mandarin" refers to Standard Chinese. It is the official spoken language of both Mainland China and Taiwan, and is also one of the four official languages of Singapore.
"Cantonese" is a dialect of Chinese. It is typically spoken in Guangdong and its neighbouring areas such as Guangxi. It is also the dominant language of Hong Kong and Macau. Cantonese is widely spoken among overseas Chinese in Southeast Asia and throughout the Western world.
Quick, easy and simple!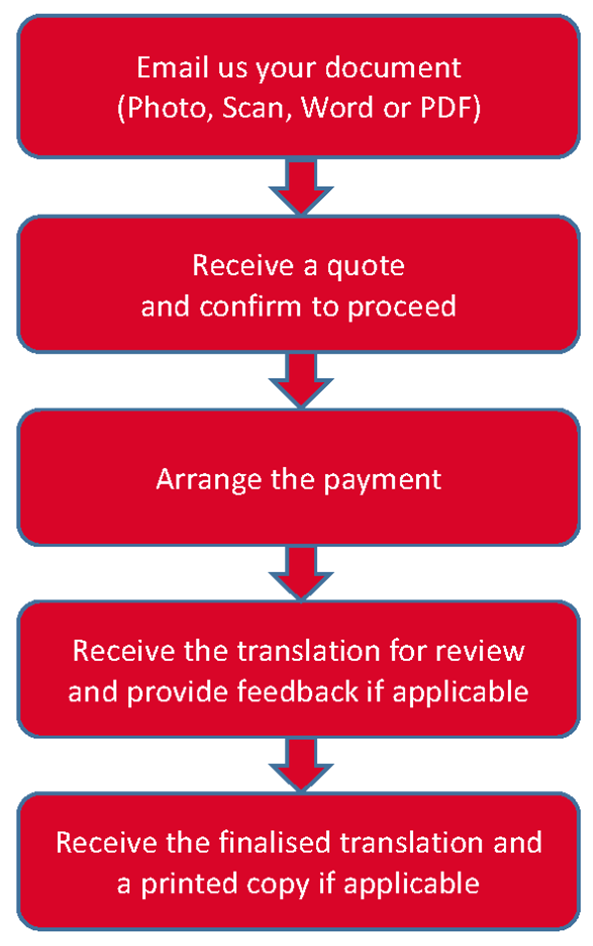 Experienced, knowledgeable and trustworthy
More than ten years of experience in the areas of

agriculture
education
engineering
finance and commerce
health care
immigration
law
mining
public service
social work
tourism

Extensive local knowledge

live and work in communities
tertiary-educated in Australia
engage in continuing professional development

A panel of NAATI certified translators and interpreters in Australia

verified and approved by local authorities
strictly follow the Code of Ethics

A team of professional and experienced project coordinators


take the time to listen to and fully understand you

deliver service on budget and time
value your feedback and respond promptly
speak your language
Need an interpreter or a translator?
Please complete our online booking form or email the details of your request to info@translationexpress.com.au
For urgent requests, please contact our teams below.
New South Wales & Canberra: (02) 8011 4009
Queensland: (07) 3172 5327
Victoria & Tasmania: (03) 9005 6125
South Australia, Western Australia and Northern Territory: (08) 8120 0465
Mobile (after hours): 0431 518 314